Wysyłka w ciągu

24h

Cena przesyłki

16

Dostępność

Brak towaru

0

szt.

Waga

6 kg
| | |
| --- | --- |
| Kod kreskowy | |
| EAN | 4713213516195 |
Opis

Opinie i oceny (0)

Zadaj pytanie

Najważniejsze cechy
QGD-1600P hybrydowy przełącznik PoE/NAS
Obsługa wysokiej mocy PoE - do 60 W
Inteligentne funkcje PoE do wydajnego i scentralizowanego zarządzania PD
Wszechstronne funkcje zarządzania Layer 2
Podwójny system przełącznika i serwera NAS, zapewniający optymalną wydajność
Pierwszy przełącznik PoE z obsługą maszyny wirtualnej
Urządzenie QGD-1600P i QVR Pro to kompleksowy system monitoringu IP
QGD-1600P + VJBOD: Rozwiązanie pamięci masowej o dużych możliwościach rozbudowy
Popraw bezpieczeństwo przy użyciu zintegrowanego, wirtualnego routera i wirtualnej zapory sieciowej
Urządzenie QGD-1600P tworzy bezprzewodowy kontroler AP za pośrednictwem UniFi® AP
Przeznaczenie
Urządzenie QGD-1600P QNAP to pierwszy na świecie przełącznik zarządzany przez PoE, który obsługuje maszyny wirtualne (VM). Urządzenie wyposażone jest w 4-portowy przełącznik 60 W i 12-portowy przełącznik 30 W Gigabit PoE (z dwoma portami combo PoE/SFP), umożliwiające elastyczne wdrażanie środowiska sieciowego. Dzięki konstrukcji z dwoma procesorami urządzenie QGD-1600P oferuje zarówno funkcje zarządzania Layer 2 dla maszyny wirtualnej, jak i aplikacje QTS. Urządzenie QGD-1600P jest także oparte na architekturze SDN (ang. Software-Defined Networking), co zapewnia mu funkcję serwera NAS, NVR, routera, zapory sieciowej i kontrolera AP na potrzeby monitoringu IP, zabezpieczania sieci, rozbudowy pamięci masowej i zastosowań w zakresie zarządzania bezprzewodową siecią LAN. Seria Guardian oferuje więc małym i średnim przedsiębiorstwom zoptymalizowane kosztowo i centralnie zarządzane rozwiązanie do wdrażania sieci LAN.


Urządzenie QGD-1600P jest zgodne z najnowszymi normami IEEE 802.3bt PoE++ i IEEE 802.3at PoE+, zapewniając 4-portowy przełącznik 60 W i 12-portowy przełącznik 30 W Gigabit PoE. QGD-1600P może zapewnić zasilanie o łącznej mocy 370 W, spełniając wymogi urządzeń o wysokim pobierze mocy (PD).

Urządzenie QGD-1600P zapewnia wszechstronne funkcje zarządzania Layer 2, np. VLAN, LACP, QoS IGMP Snooping i Wake-on-LAN, umożliwiając administratorom IT wydajne kontrolowanie przepustowości sieci i poprawę bezpieczeństwa za pośrednictwem przyjaznego w obsłudze interfejsowi WWW do zarządzania przełącznikiem.

QuNetSwitch zapewnia przyjazny w obsłudze interfejs WWW, dzięki któremu administratorzy IT mogą wydajnie kontrolować sieci Layer 2 i PoE. Co więcej za pośrednictwem pulpitu z informacjami ogólnymi i graficznej analizy statystycznej administratorzy mają błyskawiczny wgląd we wszystkie informacje o przełączniku i zasilanych urządzeniach, dzięki czemu centralne zarządzanie urządzeniami o wysokim poborze zasilania jest intuicyjne i łatwe.

Obsługuje do dwóch dysków SATA.

Funkcja rozbudowy PCIe pozwala na zastosowanie kart sieciowych 10GbE, dwuportowych kart QM2 M.2 SSD/10GbE, kart USB 3.1 Gen 2 (10 Gb/s) lub kart sieci bezprzewodowej.

Hosting aplikacji kontenerowych i maszyn wirtualnych z różnymi systemami operacyjnymi. Możliwość elastycznej instalacji wirtualnego routera, zapory sieciowej lub oprogramowania do zarządzanie siecią bezprzewodową LAN na potrzeby różnych zastosowań w zakresie zarządzania siecią.
Urządzenie QGD-1600P QNAP
QGD-1600P to hybrydowy przełącznik PoE/NAS, który zapewnia funkcję NVR, routera i kontrolera AP, i jest dostarczany z fabrycznie instalowanymi różnymi programami, aby zaspokoić wszystkie wymogi sieci małych i średnich przedsiębiorstw. Przełącznik PoE może pomóc Twojej firmie przeprowadzić transformację cyfrową, zapewniając najnowocześniejsze, inteligentne urządzenia.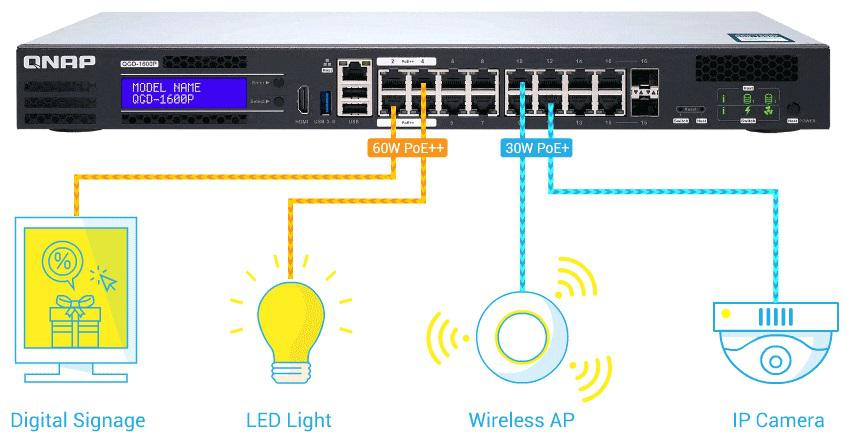 Obsługa wysokiej mocy PoE - do 60 W
Urządzenie QGD-1600P jest zgodne z najnowszymi normami IEEE 802.3bt PoE++ i IEEE 802.3at PoE+, i zapewnia 4-portowy przełącznik 60 W i 12-portowy przełącznik 30 W Gigabit PoE. Urządzenie QGD-1600P może zapewnić zasilanie o łącznej mocy 370 W, spełniając wymogi wielu urządzeń o wysokim pobierze mocy (PD), np. kamer IP, bezprzewodowych AP, telefonów IP, lamp LED i podpisów cyfrowych.
Inteligentne funkcje PoE do wydajnego i scentralizowanego zarządzania PD
Urządzenie QGD-1600P obsługuje inteligentne funkcje zarządzania PoE, w tym planowanie harmonogramu, ustalanie priorytetów w zakresie zasilania oraz włączanie i wyłączanie zasilania. Można uzyskać informacje w czasie rzeczywistym o stanie sieci i zużyciu zasilania w urządzeniach PD, i jednocześnie skonfigurować urządzenia PD w celu promocji energooszczędnej sieci PoE.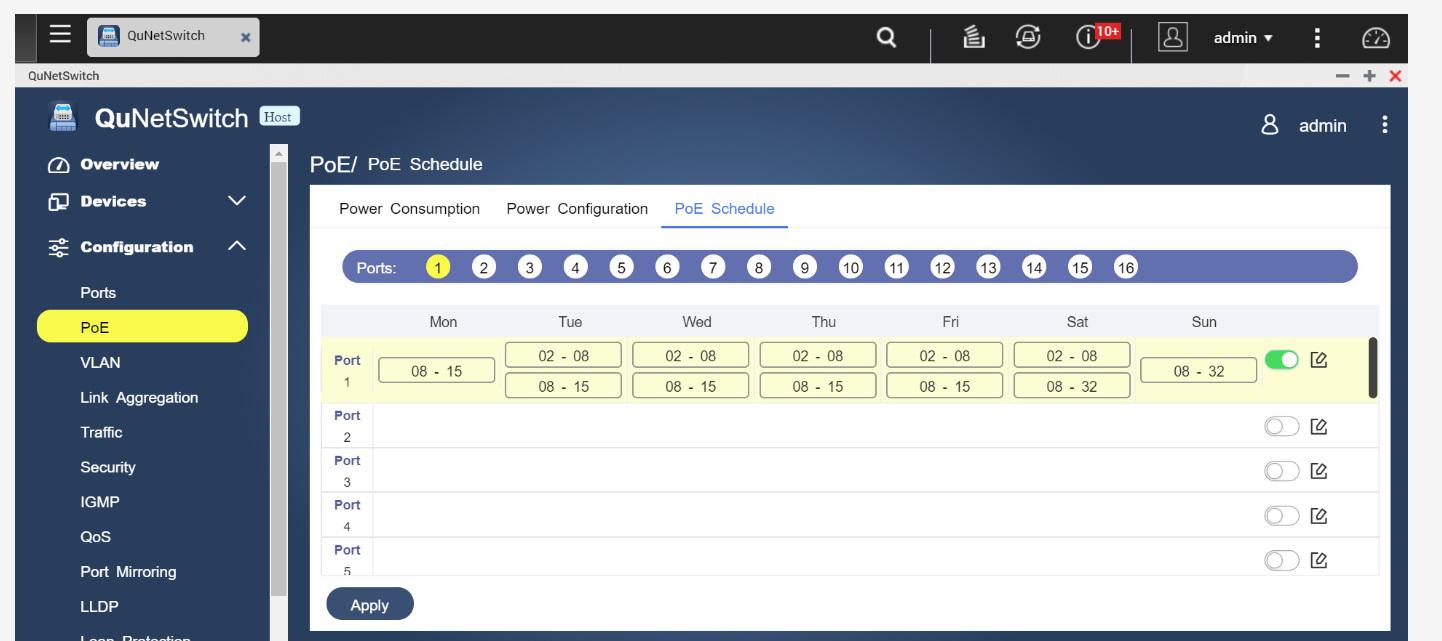 Wszechstronne funkcje zarządzania Layer 2
Urządzenie QGD-1600P zapewnia wszechstronne funkcje zarządzania Layer 2, np. VLAN, LACP i LLDP, umożliwiając wydajną kontrolę sieci poprzez grupowanie IP i zarządzanie przepustowością. QGD-1600P zapewnia także zaawansowane funkcje zabezpieczeń, w tym IGMP Snooping, statyczny MAC, QoS i Wake-on-LAN, przydatne dla prostych środowisk sieciowych i łatwego wdrażania.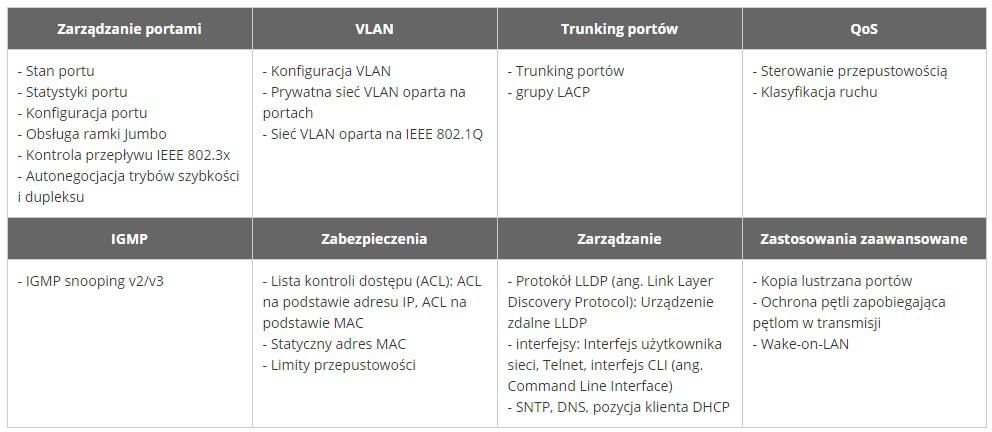 Podwójny system przełącznika i serwera NAS, zapewniający optymalną wydajność
Urządzenie QGD-1600P ma konstrukcję z podwójnym systemem, umożliwia obsługę wielu portów i możliwość rozbudowy architektury, zapewniając optymalną transmisję i elastyczność w wypełnianiu potrzeb biznesowych w zakresie wydajności i zróżnicowanych zastosowań.
Pierwszy przełącznik PoE z obsługą maszyny wirtualnej
Urządzenie QGD-1600P to pierwszy na świecie przełącznik PoE z systemem operacyjnym QTS wbudowanym na potrzeby maszyny wirtualnej, Container i innych aplikacji w chmurze, umożliwiający wdrożenie wszechstronnych rozwiązań sieciowych i rozwiązań pamięci masowej. Oprócz QVR Pro, VJBOD i innych zróżnicowanych zastosowań w zakresie pamięci masowej, QTS App Center obsługuje także maszyny wirtualne w celu instalacji wielu programów typu open-source, w tym MikroTik® RouterOS, OpenWrt, pfSense® i Ubiquiti® UniFi®. Urządzenie QGD-1600P, zintegrowane z usługami chmur publicznych, spełnia wymogi różnych zastosowań w zakresie monitoringu IP, rozbudowy pamięci masowej, bezpieczeństwa sieci i zarządzania bezprzewodową siecią LAN. Konstrukcja z dwoma procesorami urządzenia QGD-1600P umożliwia obsługę interfejsów do zarządzania siecią, niezależnie w systemie QSS (QNAP Switch System) i QTS. Urządzenie QGD-1600P zapewnia przyjazny dla użytkownika interfejs, QuNetSwitch, ułatwiając małym i średnim przedsiębiorstwom łatwe wdrożenie elastycznej i bezpiecznej infrastruktury IT.
Systemy QTS i QSS mogą działać niezależnie bez zakłóceń, zapewniając nieprzerwaną pracę. Na przykład: ponowne uruchomienie systemu QTS nie spowoduje zakłóceń zasilania PoE systemu QSS; a ponowne uruchomienie systemu QSS nie spowoduje przerwania działania maszyn wirtualnych w systemie QTS.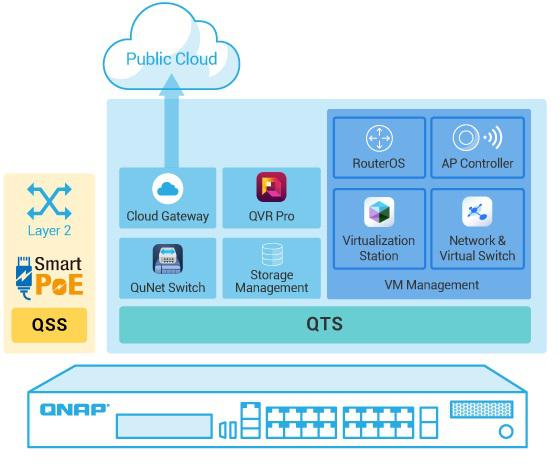 Urządzenie QGD-1600P i QVR Pro to kompleksowy system monitoringu IP
QGD-1600P współdziała bezproblemowo z QVR Pro, nową usługą oprogramowania do monitoringu QNAP, umożliwiając uzyskanie najbardziej oszczędnego, kompleksowego systemu monitoringu IP. Dzięki zintegrowaniu PoE, NVR i funkcji pamięci masowej, urządzenie QGD-1600P znacznie upraszcza infrastrukturę sieci monitoringu, jednocześnie zaspokajając wymogi wdrożenia monitoringu, centralnego zarządzania, nagrywania wideo i zliczania. Urządzenie QGD-1600P zapewnia 4-portowy przełącznik 60 W i 12-portowy przełącznik 30 W Gigabit PoE dla kamer o wysokim poborze energii różnych firm, z normą ONVIF. Za pośrednictwem pakietu monitoringu QVR Pro administratorzy IT mogą łatwo zarządzać kamerami, nagrywać i odtwarzać filmy wideo, wykonywać zadania przywracania danych w razie awarii oraz monitorować aplikacje mobilne. Urządzenie QGD-1600P jest wyposażone w wyjście HDMI w celu podłączania monitora zewnętrznego na potrzeby monitoringu wideo w czasie rzeczywistym.

QGD-1600P + VJBOD: Rozwiązanie pamięci masowej o dużych możliwościach rozbudowy
QGD-1600P obsługuje do dwóch dysków SATA i inne akcesoria do rozszerzania pamięci masowej ze wspomaganiem sprzętowym, np. karty rozszerzeń PCIe, USB, SAS oraz obudowę do rozbudowy RAID (TR-004U), zapewniając niezawodne działanie. Ponadto, za pośrednictwem QNAP VJBOD, można zwiększyć obszar pamięci masowej urządzenia QGD-1600P. VJBOD umożliwia niezwłoczne przydzielenie przestrzeni pamięci masowej ze zdalnego serwera QNAP NAS, jak jednostki iSCSI LUN, i utworzenie pul pamięci masowej, wykonywanie migawek, tworzenie klonów z migawek lub indeksowanie plików multimedialnych w bibliotece multimedialnej w urządzeniu QGD-1600P. Możliwość rozszerzenia jednostek fizycznych i grupy VJBOD pozwala osiągnąć najwyższy możliwy wskaźnik wykorzystania pamięci masowej oraz spełnić potrzeby związane z magazynowaniem i tworzeniem kopii zapasowych ogromnych ilości danych.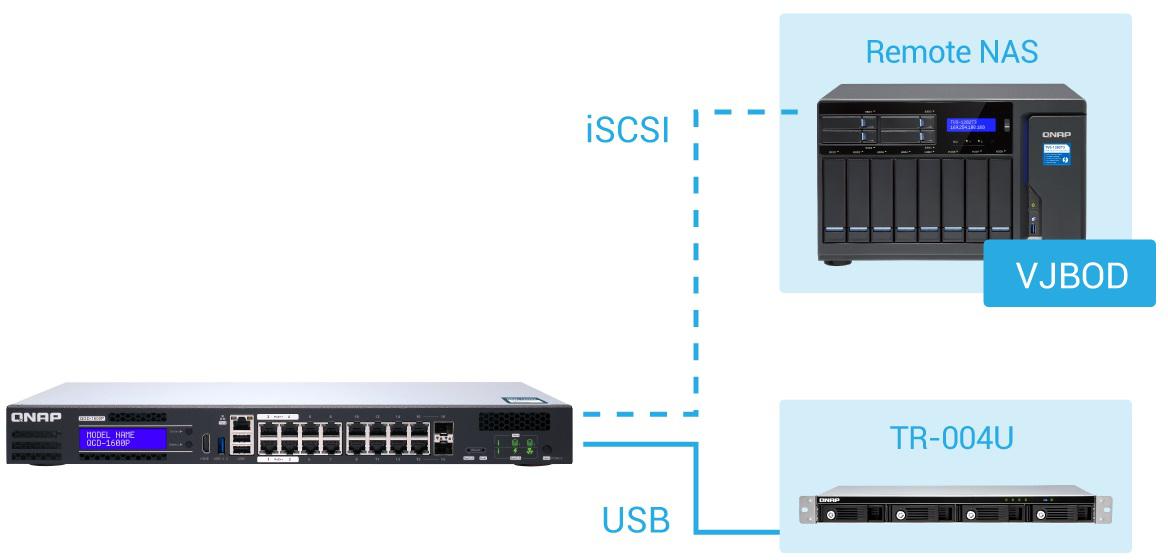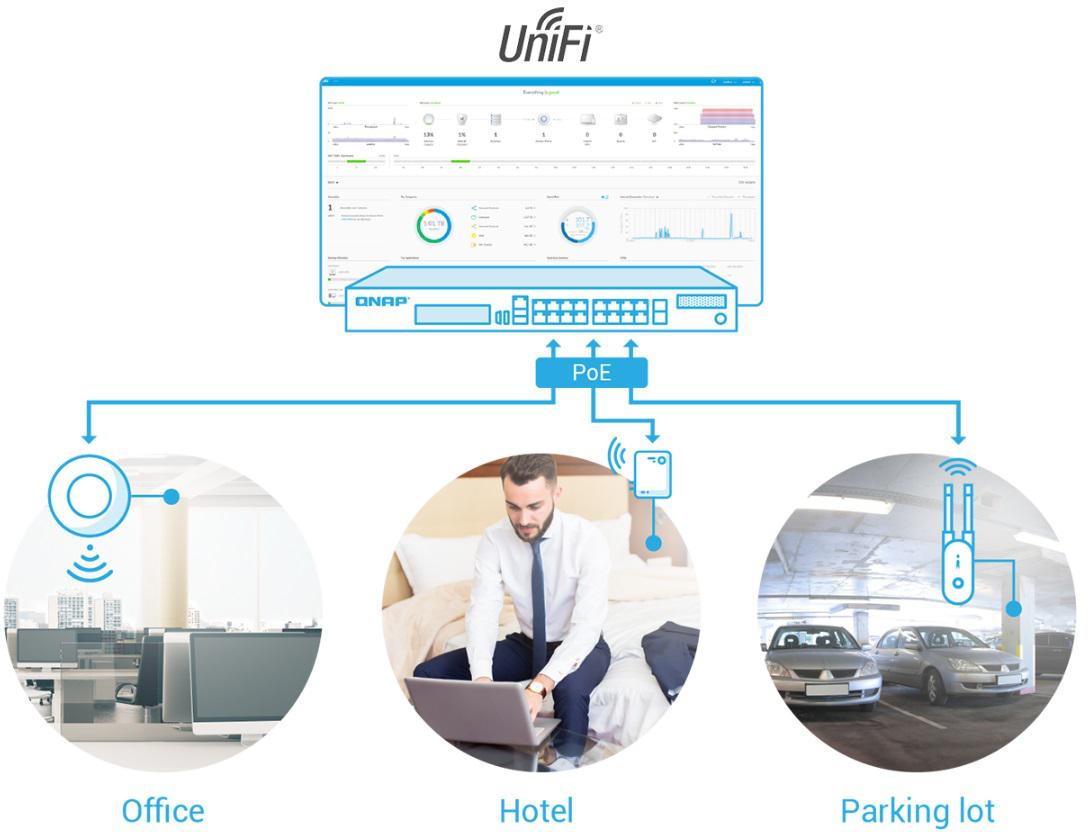 Urządzenie QGD-1600P tworzy bezprzewodowy kontroler AP za pośrednictwem UniFi® AP
Urządzenie QGD-1600P zapewnia 4-portowy przełącznik 60 W i 12-portowy przełącznik 30 W Gigabit PoE na potrzeby różnych typów bezprzewodowych punktów dostępu PoE o wysokim zasilaniu. Dzięki wdrożeniu technologii PoE i maszyny wirtualnej w celu obsługi bezprzewodowych punktów dostępu PoE i oprogramowania UniFi do zarządzania bezprzewodową siecią LAN Ubiquiti, urządzenie QGD-1600P staje się opartym na oprogramowaniu kontrolerem bezprzewodowego punktu dostępu ze wspomaganiem sprzętowym. QGD-1600P nie tylko umożliwia transmisję danych i zarządzanie PoE przez bezprzewodowe punkty dostępu, ale także centralne zarządzanie za pośrednictwem urządzeń sieci przewodowej i bezprzewodowej w biurach, hotelach, sklepach detalicznych lub innych, małych i średnich sieci, znacznie zwiększając wydajność zarządzania siecią i redukując koszty.
Typ zarządzania
Zarządzanie sieciowe
Typ zarządzania
Zarządzanie sieciowe
Procesor
Czterordzeniowy procesor Intel® Celeron® J4115 o taktowaniu 1,8 GHz (zwiększanym do 2,5 GHz)
Architektura procesora
64-bitowy x86
Pamięć systemowa
4 GB
Wnęki dysków
2 x 2.5-inch SATA 6Gb/s, 3Gb/s
Wymiary (wys. x szer. x gł.)
47,2 × 436,2 × 326,2 mm
Waga (netto)
4,41 kg
Waga (brutto)
5,56 kg
Temperatura robocza
0°C to 45°C (32°F to 113°F)
Wilgotność względna
Od 5% do 95% bez kondensacji, temperatura mokrego termometru: 27°C (80,6°F)
Certyfikaty
CE, FCC, VCCI, BSMI RCM
Zgodność elektromagnetyczna
KLASA A, UL62368
Ramki Jumbo
9k
Wbudowany QTS
Tak
Koprocesor arytmetyczny FPU
Tak
Procesory graficzne
Intel® HD Graphics 600
Zarządzanie wyświetlaczem LCD
Tak
Mechanizm szyfrowania
(AES-NI)
Maksymalna pojemność pamięci
8 GB (2 x 4 GB)
Gniazdo pamięci
2 x SODIMM DDR4
Pamięć flash
4 GB (ochrona systemu operacyjnego przed podwójnych rozruchem)
Kompatybilność dysków
2,5-calowe wnęki: 2,5-calowe dyski SSD 2,5-calowe dyski twarde
Wymieniany podczas pracy
Tak
Gniazda dysków M.2 SSD
Opcjonalne przez kartę PCIe
Obsługa przyspieszenia pamięci podręcznej SSD
Tak
System plików: Wewnętrzny dysk twardy
EXT4
System plików: Zewnętrzny dysk twardy
EXT3, EXT4, NTFS, FAT32, HFS+, exFAT (licencja opcjonalna)
Przyciski
Przycisk zasilania zasilacza Przycisk zasilania hosta Przycisk resetowania hosta(załaduj domyślne) Przycisk resetowania przełącznika
Wskaźniki LED
Na port: Łącze/aktywność/prędkość/PoE Na system: Ostrzeżenie/PoE/wentylator
Liczba portów
16
Gniazdo do zarządzania
1
1GbE (RJ45)
14
Porty combo 1GbE SFP/RJ45
2
Łączna liczba portów PoE
16
PoE PSE (802.3af, 15,4W)
Porty 1-16
PoE+ PSE (802.3at, 30W)
Porty 1-16
PoE++ PSE (802.3bt, 60W)
Porty 1-4
Wyjście zasilania PoE
Porty 1-4 (60 W), porty 5-16 (30 W)
Łączna dostępna moc zasilania PoE
370 W
Gniazdo PCIe
Gniazdo 1: PCIe Gen2 (x2) Gniazdo 2: PCIe Gen2 (x2)
Port USB 3.0
1
Port USB 2.0
2
Port USB 3.1 Gen 2 (10 Gb/s)
Opcjonalne przez kartę PCIe
Kształt
Do montażu stelażowego
Wyjście HDMI
1
Informacje o zasilaniu
Zasilacz wewnętrzny
Maks. zużycie energii
418W
Typ zasilania wejściowego
AC
Zakres napięcia wejściowego
100-240 VAC, 50/60 Hz
Tabela z adresami MAC
8K
Łączna przepustowość nieblokująca
16 Gb/s
Zdolność przełącznia
32 Gb/s
Interfejs zarządzania
CLI/Web
Energy Efficient Ethernet (IEEE 802.3az complaint)
Tak
Wentylator
System: 2 x 4 cm (12 V DC)
Obsługiwane normy
IEEE 802.3 10Tx Ethernet IEEE 802.3u 100Tx Fast Ethernet IEEE 802.3ab 1000BASE-T Gigabit Ethernet IEEE 802.3z 1000Base-X IEEE 802.3x Kontrola przepływu Full-duplex IEEE 802.3af/at/bt Power-over-Ethernet (PoE) IEEE 802.1q Wirtualne sieci LAN (VLAN) IEEE 802.1p protokół QoS do nadawania priorytetu ruchu
Standards Compliance
IEEE 802.3 10Tx Ethernet IEEE 802.3u 100Tx Fast Ethernet IEEE 802.3ab 1000Base-T IEEE 802.3ad Link aggregation for parallel links IEEE 802.3z 1000Base-X IEEE 802.3x Flow Control for Full Duplex IEEE 802.1q Virtual LANs (VLAN) IEEE 802.1p QoS Protocol for Traffic Prioritization IEEE 802.3af/802.3at/802.3bt
Port Management
Port status Port statistics Port configuration Jumbo frame support IEEE 802.3x flow control Auto-negotiation of speed and duplex modes
PoE Management
Power consumption status Power configuration: PoE mode selection, Priority PoE schedule
QoS
Bandwidth control Traffic classification Rate limiting
VLAN
VLAN configuration Port-based private VLAN IEEE 802.1Q-based VLAN
Layer 2 Features
Port trunking LACP groups IGMP snooping v2/v3 Loop protection to avoid broadcast loops
Security
Access Control Lists (ACL): ACL by IP address, ACL by MAC Network access protection with auto-blocking (SSH, Telnet, HTTP(S), FTP, CIFS/SMB, and AFP) Host access control for shared folders (CIFS/SMB) AES 256-bit folder-based and volume-based encryptions, which are validated by FIPS 140-2 Cryptographic Algorithm Validation Program (CAVP ) 256-bit external drive encryption (AES) Import SSL certificates from Let's Encrypt Instant alerts through email, SMS, push service, audio, and LCD panel 2-step verification
Other Features
Link Layer Discovery Protocol (LLDP): LLDP remote device Interfaces: Web UI, telnet, Command Line Interface (CLI) SNTP, DNS, DHCP client entry Port mirroring Wake-on-LAN Static MAC address
Operating System
QTS 4.4.1 (embedded Linux)
Supported Client Operating Systems
Apple Mac OS 10.7 or later Linux and UNIX Microsoft Windows 7, 8, and 10 Microsoft Windows Server 2003, 2008 R2, 2012, 2012 R2 and 2016
Supported Browsers
Apple Safari 7 or later Google Chrome Microsoft Internet Explorer 10 or later Mozilla Firefox
Supported Languages
Chinese (traditional and simplified), Czech, Danish, Dutch, English, Finnish, French, German, Greek, Hungarian, Italian, Japanese, Korean, Norwegian, Polish, Portuguese (Brazil), Romanian, Russian, Spanish, Swedish, Thai, and Turkish
Supported File Systems
Internal hard drive (EXT4) External hard drive (EXT3, EXT4, NTFS, FAT32, HFS+, and exFAT) Note: To use exFat you must purchase an exFAT driver license from License Center.
Network and Virtual Switch
TCP/IP: Dual stack (IPv4 and IPv6) Jumbo frame DHCP server and client RADVD
Web Server
HTTP/HTTPS Connections Supports WebDAV Connections Supports Virtual Hosts (Max: 32) Importable SSL Certificates
Storage Management
RAID Hot Spare and Global Hot Spare RAID Rebuild Speed Customization Online RAID capacity expansion Online RAID level migration SSD RAID Over-provisioning Note: RAID 0 and JBOD data RAID does not support over-provisioning. SSD RAID performance evaluation (with SSD profiling tool) Bitmap support Disk auto S.M.A.R.T. data migration Disk bad block scan and recovery Disk S.M.A.R.T test Disk secure data erase Ironwolf Health Management Storage pools Qtier™ data tiering technology Online volume expansion Volume type conversion Volume shrink Storage space utilization Storage expansion using QNAP expansion units JBOD enclosure roaming Supported RAID types 2-bay: RAID 0, 1, JBOD, Single Snapshots Volume and LUN snapshots Snapshot Dashboard Snapshot Manager Snapshot local restore and revert Snapshot Clone Snapshot Replica and Snapshot Vault Snapshot remote restore and revert Unified Snapshot Directory Supports Windows Previous Versions (CIFS/SMB) Snapshot Agent for Microsoft Windows and VMware vSphere Note: This feature requires at least 1 GB of memory. The maximum number of snapshots varies according to installed memory. Flexible volumes and LUNs with thin provisioning and space reclaiming If the NAS has less than 4GB RAM, then the maximum volume capacity is 144TB. If the NAS has at least 4GB RAM, then the maximum volume capacity is 250TB.
iSCSI (IP SAN)
iSCSI targets with multiple LUNs per target Note: The maximum number of targets + LUN is 256. LUN mapping and masking Online LUN capacity expansion SPC-3 persistent reservation MPIO & MC/S iSCSI LUN backup, one-time snapshot, and restoration Virtual disks using iSCSI initiator Note: The maximum number of virtual disks is eight. Stack chaining master
Notification Center
Added support for sending notifications via SMS providers, including Nexmo, Twilio, and Clickatell. Added Outlook as an SMTP service option. Added support for sending notifications via instant messaging applications, including Skype and Facebook Messenger. Added support for Overview and History in Notification Center. Added 23 language support for notification messages. Added support for creating custom notification rules to specify notification criteria, including application categories, severity levels, and keywords. Delivery method and message recipient settings are now more flexible. Added support for creating multiple notification rules at the same time. Added support for sending notifications for a single system event.
Access Rights Management
Multiple user creation User data importing and exporting User quota management Local user access control (AFP, CIFS/SMB, FTP, and WebDAV) Application access control (File Station, Music Station, Photo Station, and Video Station) Subfolder permissions (AFP, CIFS/SMB, FTP, and File Station)
Domain Authentication
Microsoft Active Directory (AD) and domain controller support LDAP server and client Domain user login (AFP, CIFS/SMB, FTP, and File Station)
myQNAPcloud
Free host name registration (DDNS) Optional myQNAPcloud SSL certificates (DDNS) Auto-router configuration using UPnP Web-based file manager with HTTPS 2048-bit encryption CloudLink for remote access without complex router setup
Qsync
File syncing across multiple devices with SSL secure connection Selective synchronization for specific folders or subfolders Set up team folders as file centers for better collaboration Share file using email links Configure policies for conflicting files and file type filter Supports up to 64 versions for version control Unified privilege and configuration management Central configuration mode Remote erase and restore Qsync client supported platforms: Windows, Mac, Ubuntu, and Android
Resource Monitor
Monitor NAS system resources, including CPU, memory and network Monitor NAS storage resources, including volumes, RAID, and disk activity Monitor NAS application resource usage Create extra swap space when SSDs are installed
Helpdesk
Report issues to the QNAP support team through automatic system information collection Remote connection between QNAP support engineers and NAS for issue resolution (with user permission)
Web Administration
Multi-window, multitasking system management Smart toolbar and dashboard for system status display SNMP versions 2 and 3 Resource monitor
File Server
File sharing across Windows, Mac, and Linux/UNIX Microsoft networking Apple networking NFS service Windows ACL (CIFS/SMB) Advanced folder permissions (AFP, CIFS/SMB, and FTP) Shared folder aggregation (CIFS/SMB)
FTP Server
FTP over SSL/TLS (explicit) FXP support
File Station
Cloud drive mounting for Google Drive, Dropbox, Microsoft OneDrive, Microsoft OneDrive for Business, HiDrive, Amazon Cloud Drive, Yandex Disk and Box Remote shared folder mounting (CIFS/SMB, FTP, and WebDAV) Document viewing using Office Online, Google Docs, and Chrome extension Microsoft Office file editing using Google Docs, Sheets, and Slides ISO file mounting (maximum: 256 ISO files) Mount smart phones as external storage Read access for compatible optical disc drives Read access for compatible smartphones with Media Transfer Protocol (MTP) Download and upload link sharing File dragging and dropping (Chrome and Firefox) Preview and playback photos, video, and music with hardware-accelerated transcoding File compression (ZIP and 7z) Create download links and send publicly shared files, with expiration date and password protection Subtitle display (SRT and UTF-8) Video seeking during on-the-fly transcoding video playback Slideshow playback in media viewer Convert image files to pdf by "Image2PDF" integration Qfile: Mobile app for file browsing and management
Qfiling
Auto filing Recipe function Archiving through iSCSI, USB, DVD and remote NAS Advanced settings Source File Filters File Editing File deletion Data integrity check File conflict policy
HBS 3 (Hybrid Backup Sync)
Supports cloud storage backup to the following services : Amazon Glacier, Amazon S3, Azure Storage, Google Cloud Storage, HKT Object Storage, OpenStack Swift, and WebDAV Supports cloud storage syncing with the following services: Alibaba Cloud, Amazon Drive, Amazon S3, BackBlaze B2, Box, Dropbox, OneDrive, Google Drive, HiDrive, hubiC, OneDrive, OneDrive For Business, ShareFile, Yandex.Disk RTRR server and client with bandwidth control Rsync server with download bandwidth control Remote server syncing (CIFS/SMB, FTP, Rsync, and RTRR) Scheduled backup to local and remote storage spaces Backup versioning (RTRR) Encryption, compression, and file filters Centralized management for backup, restoration, and sync jobs Supports Apple Time Machine Backup data to multiple external storage devices Backup desktops with QNAP NetBak Replicator for Windows Supports the following third-party backup software: Veeam Backup & Replication, Acronis True Image, Arcserve Backup, Retrospect, Nakivo Backup & Replication, and Veritas Backup Exec
Virtualization Station
Virtual machine creation (Windows, Linux, Unix, and Android) Virtual machines import, export, clone, snapshot capture, backup, and restore Console displays using HDMI output (QVM) export HTML5-based shared remote console Various networking modes and virtual switch support
Container Station
LXC and Docker support Built-in Docker Hub Registry for app downloads One-click installation Container import and export Console mode Three networking modes (Note: Docker containers support Bridge, NAT, and Host modes. Linux containers (LXC) only support NAT.) Container auto-start Downloadable Docker certificate Private registry Application repository for switching to any repository on GitHub.com
Qsirch
Full-text search Data distribution using a bar chart Previews for photos, music, videos, PDFs, Gmail, and others Advanced search operators and search scope Customized search filters with included or excluded conditions Related files suggestion in Viewer Search Chrome, Firefox and Safari extension Note: This feature is supported by all QNAP NAS devices with at least 2 GB of memory (excluding the TAS series)
QVR Pro
All models include 8 built-in licensed camera channels Scale up to 16 camera channels (QVR Pro Gold license required) Note: The maximum number of channels supported varies according to NAS model, network configuration, and camera settings. For more information, visit https://www.qnap.com/go/qvr-nas-selector. QVR Pro as motion detector support
QVR Pro Client (Desktop)
Instantly switch between Live and Playback modes Dynamic and adjustable layouts for camera and E-map views Qdewarp technique for dewarping fisheye and 360-degree cameras Region of interest in each channel Add and edit cameras on QVR Pro Client support Hardware acceleration for fisheye cameras Video wall (up to 8 monitors) Hardware acceleration on Windows, Mac, Ubuntu, and HybridDesk Station Multithreaded decoding Synchronized video playback Specifying exported recordings on the timeline support Virtual keyboard (for HybridDesk Station version) Playback deleted channel recordings support Receive notification messages about system time zone changes in QVR Pro Server dashboard (when connected to QVR Center) Playback control via the keyboard (space and arrow keys) Display camera location and event notifications on e-maps support Export file format selection support 2-step verification support Cross-platform support: Windows, macOS, Ubuntu, QNAP HybridDesk Station
QVR Pro Client (Mobile)
Instantly switch between Live and Playback modes Cross-platform support: Android and iOS Various advanced monitoring options: sequential mode, PTZ control, auto cruising, and preset point control Instant push notifications support Display camera locations on e-maps support Server dashboard displaying NAS information, camera status, and recording space status
QVR Center
Supports management of up to 128 QVR Pro servers (QVR Pro Gold license required) Statistical graphics for visualizing event data Log management for all added servers Integration with QVR Pro Client for central monitoring across multiple servers Centralized view using cameras from multiple servers Backward compatibility with Surveillance Station and VioStor NVR
QVR Guard
Failover solution designed for QVR Pro to ensure server availability Viewing task details during the failover period Automatic switch between Standby and Takeover modes based on QVR Pro server status
QVR Pro CamPack
More camera manufacturers and models support Note: To download the Camera Package, go to QVR Pro Plug-in Center.
QUSBCam2
USB webcams as ONVIF IP cameras (remotely manageable) configuration Live views (no other apps required) monitor RTSP support
Surveillance Station
Supports up to 5,000 IP cameras Four free camera licenses Note: Surveillance Station supports a maximum of 16 camera channels. To add more camera channels, you need to purchase licenses from the QNAP License Store. Instant playback of recent surveillance events Visual options for e-maps Playback speed control Display preview snapshots on the timeline support Intelligent Video Analytics (IVA) for advanced video searches Surveillance client designed for macOS Mobile surveillance application (Vmobile) for iOS and Android Mobile recording application (Vcam) for iOS and Android
QVPN Service
Utility and mobile apps for Windows, Mac OS, and Android support VPN server User-friendly graphical overview page Secure remote access with PPTP, L2TP/IPSec, OpenVPN, QBelt (QNAP proprietary) protocol Supports a maximum of 100 clients Public, NAS default, and manually DNS server support Manually assign, auto detect, and none outgoing network interface support Privilege settings for domain and local users support VPN client PPTP, L2TP, IPSec, OpenVPN, and QBelt (QNAP proprietary) protocol support VPN as a NAS default gateway support Connection log check support
Q'center (NAS CMS)
Monitor multiple NAS devices Utilization reports Unified configuration management Monitor NAS devices behind NAT routers with Connect to Q'center Note: The application is available in the App Center and in virtual appliance marketplaces (VMware vSphere ESXi and Microsoft Hyper-V).
Qfinder Pro
Find QNAP NAS location on the same local network NAS shared folder mounting Configure basic settings (firmware, SMTP server, and network settings) Direct connection with USB QuickAccess and Thunderbolt (specific models only) Storage Plug and Connect (Windows only) Create and map NAS shared folders Create and connect iSCSI targets and LUNs Media upload (Windows only) Upload media files to the NAS Automatically create thumbnails or video transcoding with computers
App Center
Official and community software add-ons Automatic updates and new version notifications Repository for imported third-party content User-specified volume for storing applications
Notes Station 3
Insert Evernote Notes in Notes Station 3 Enable YouTube video embedding in Notes Create tables with insert table editor
HybridDesk (HD) Station
Chrome and Firefox support International keyboards and mouse input support User login permissions
Linux Station
NAS as a Linux-based computer support Ubuntu 14.04, Ubuntu 16.04, and Ubuntu Kylin 16.04 support Ubuntu Software Center app downloads Remote desktop for Ubuntu remote monitor and access Note: The application requires at least 4 GB of memory and installation of Container Station.
Qcontactz:
One-way scheduled sync of contacts from multiple Google accounts Import and export contacts from CSV or vCard 3.0 files Duplicate contact search and merge Contact management: Groups, favorites, lock, search, delete and restore Cross-platform support: Android and iOS
General Notes
Designs and specifications are subject to change without notice. Some features may vary according to model. QTS does not support DRM content and some IPv6 services. Some data encryption features may be unavailable because of country-specific legislative restrictions.
Deprecated Features
Telnet Support for wireless ad hoc networks Note: The following features are deprecated, but will continue to function until complete removal in future releases. QNAP recommends users to plan ahead or use alternative solutions prior to the complete removal of these features.
QIoT Suite Lite
Launch IoT applications quickly with little human involvement Supports multiple protocols (MQTT, HTTP and CoAP) and dashboards, allowing for the quick connection of development boards along with multiple sensors Flexible workflow creations with graphical rules engine drag-and-drop blocks and connection nodes feature Important information of connected IoT devices with customizable dashboards monitor Benefit from the integration of private and public clouds
AWS Greengrass
Responds to local events in near real-time Operate offline Secure communication Simplified device programming with AWS Lambda Reduces costs of running IoT applications
QRM+
Centralized Remote Management solution designed for IT Teams in industries reliant on networked computing devices Remote Management of Windows, Linux, and IPMI compatible devices Offers threshold based alerts to fix performance problems before impacting users, applications, and businesses Supports multiple active monitors, including CPU Utilization, Memory Utilization, Disk Utilization, CPU Temperature, CPU Fan speed, and more, providing complete visibility for administrators across all mission critical computing devices Benefit from higher productivity, better collaboration, and faster recovery from device downtime or system performance Android mobile app support
Security Counselor
Multiple security policies (Basic/Intermediate/Advanced/Custom Check NAS settings for security vulnerabilities Existing anti-virus services integration Existing anti-malware services integration Security Advisory service integration
Malware Remover
Malware detection and removal
Nie ma jeszcze komentarzy ani ocen dla tego produktu.
Ostatnio oglądane produkty

Inni Klienci kupili również

Produkty podobne